Investors & Media
TherapeuticsMD, Inc. is an innovative healthcare company focused on developing and commercializing products exclusively for women. With its SYMBODA™ technology, TherapeuticsMD is developing advanced hormone therapy pharmaceutical products to enable delivery of bio-identical hormones through a variety of dosage forms and administration routes. The company's clinical development pipeline includes multiple hormone therapy products at various stages of clinical development. The company also manufactures and distributes branded and generic prescription prenatal vitamins under the vitaMedMD® and BocaGreenMD® brands. More information is available at the following websites: vitamedmdrx.com and bocagreenmd.com .
There are currently no events to display.
(Common Stock)
Data as of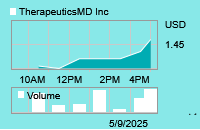 Copyright Nasdaq. Minimum 15 minutes delayed.